Physicians looking to start a consulting practice should consider utilizing a written contract with their clients. The below sample physician consulting form contract is a good starting point and can be customized to each physician consultant's needs and wishes.
This Agreement is made effective as of __________________, by and between <Client Organization>, of <Client Address>, _________________________, ___ __________, and Consultant, of <Consultant address>, _________________________, ___ __________.
In this Agreement, the party who is contracting to receive services shall be referred to as "Client," and the party who will be providing the services shall be referred to as "Consultant."
Consultant has a background in medicine as well as other specialized skills and is willing to provide services to Client based on this background.
Client desires to have services provided by Consultant.
Therefore, the parties agree as follows:
DESCRIPTION OF SERVICES. Beginning on __________________, Consultant will provide the following services (collectively, the "Services"): ***describe***.
PERFORMANCE OF SERVICES. The manner in which the Services are to be performed and the specific hours to be worked by Consultant shall be determined solely by Consultant. Client will rely on Consultant to work as many hours as may be reasonably necessary to fulfill Consultant's obligations under this Agreement.
PAYMENT. Client will pay a fee of $______ per hour to Consultant for the Services. This fee shall be payable monthly, no later than the first day of the month following the period during which the Services were performed.  Upon termination of this Agreement, payments under this paragraph shall cease; provided, however, that Consultant shall be entitled to payments for periods or partial periods that occurred prior to the date of termination and for which Consultant has not yet been paid.  All unpaid balances will accrue interest at a rate of 1.5% per month, or the highest rate allowed by law, whatever is greater.
EXPENSE REIMBURSEMENT. Consultant shall be entitled to reimbursement from Client for all reasonable expenses, including but not limited to, travel, telephone, currier, and photocopying expense.
NEW PROJECT APPROVAL. Consultant and Client recognize that Consultant's Services may include working on additional projects for Client. Consultant shall obtain the approval of Client prior to the commencement of a new project.
TERM/TERMINATION. This Agreement shall be effective for a period of one year and shall automatically renew for successive terms of the same duration, unless either party provides 60 days written notice to the other party prior to the termination of the applicable initial term or renewal term.
RELATIONSHIP OF PARTIES. It is understood by the parties that Consultant is an independent contractor with respect to Client, and not an employee of Client. Client will not provide fringe benefits, including health insurance benefits, paid vacation, or any other employee benefit, for the benefit of Consultant.
DISCLOSURE. Consultant is required to disclose any outside activities or interests, including ownership or participation in the development of prior inventions, that conflict or may conflict with the best interests of Client. Prompt disclosure is required under this paragraph if the activity or interest is related, directly or indirectly, to any activity that Consultant may be involved with on behalf of Client.
INDEMNIFICATION. Client agrees to indemnify and hold Consultant harmless from all claims, losses, expenses, fees including attorney fees, costs, and judgments that may be asserted against Consultant that result from the acts or omissions of Client, Client's employees, if any, and Client's agents.
ASSIGNMENT. Consultant's obligations under this Agreement may not be assigned or transferred to any other person, firm, or corporation without the prior written consent of Client.
CONFIDENTIALITY. Client recognizes that Consultant may have the following information:
– products
– future plans
– business affairs
– process information
– trade secrets
– technical information
– customer lists
– product design information
and other proprietary information (collectively, "Information") which are valuable, special, and unique assets of Client and need to be protected from improper disclosure. In consideration for the disclosure of the Information, Consultant agrees that Consultant will not at any time or in any manner, either directly or indirectly, use any Information for Consultant's own benefit, or improperly divulge, disclose, or communicate in any manner any Information to any third party.  Consultant will protect the Information and treat it as strictly confidential.  A violation of this paragraph shall be a material violation of this Agreement.
RETURN OF RECORDS. Upon termination of this Agreement, Consultant shall deliver all records, notes, data, memoranda, models, and equipment of any nature that are in Consultant's possession or under Consultant's control and that are Client's property or relate to Client's business.
ENTIRE AGREEMENT. This Agreement contains the entire agreement of the parties and there are no other promises or conditions in any other agreement whether oral or written. This Agreement supersedes any prior written or oral agreements between the parties.
AMENDMENT. This Agreement may be modified or amended if the amendment is made in writing and is agreed to by both parties.
SEVERABILITY. If any provision of this Agreement shall be held to be invalid or unenforceable for any reason, the remaining provisions shall continue to be valid and enforceable. If a court finds that any provision of this Agreement is invalid or unenforceable, but that by limiting such provision it would become valid and enforceable, then such provision shall be deemed to be written, construed, and enforced as so limited.
WAIVER OF CONTRACTUAL RIGHT. The failure of either party to enforce any provision of this Agreement shall not be construed as a waiver or limitation of that party's right to subsequently enforce and compel strict compliance with every provision of this Agreement.
FORCE MAJEUR. The performance of this contract by either party is subject to acts of God, death, disability, government authority, disaster or other emergencies, any of which make it illegal or impossible to carry out the agreement.
DISPUTE RESOLUTION. Any controversy, claim or dispute arising out of or relating to this Contract, shall be resolved through binding arbitration conducted in accordance with the rules of the American Arbitration Association in the State in which the Expert is domiciled. The law of the State in which the Expert is domiciled will be the governing law. The arbitration award will be enforceable in any state or federal court.  In any arbitration or court proceeding, the prevailing party shall be entitled to recover reasonable attorneys' fees and costs.   In addition, Client shall be responsible for payment of attorneys' fees and expenses associated with the Expert's efforts to collect monies owed under the terms of this Contract.
Party receiving services:
<Client Organization>
By:          ____________________________________________________
Party providing services:
<Consultant>
By:          ____________________________________________________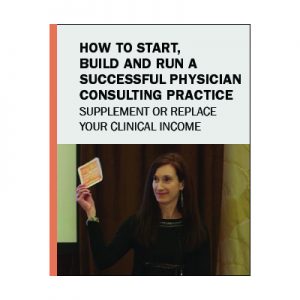 Consulting is highly lucrative. Most of the work can usually be done from a home office and overhead, start-up costs and risks are relatively small. This hands-on intensive workshop will show you how to start, build, and run a high paying consulting practice. You will be guided to find your best consulting niches and be provided with strategies for getting started, building, marketing and expanding your new consulting practice. Emphasis will be placed on the practical needs of the physician and your consulting practice. You are provided the tools, forms, and checklists to get your consulting practice off the ground.