SEAK, Inc. specializes in showing physicians how to supplement their clinical income through consulting. Since 1980, we have trained many thousands of physicians through our conferences (live and streaming on-demand), books and one-on-one mentoring. Our focus is on well paying work from home consulting opportunities for physicians that can be done on your own hours.  The work is interesting and it will make you a better clinician for your patients.
Supplemental Income & Other Resources For Physicians
SEAK Directories for Physicians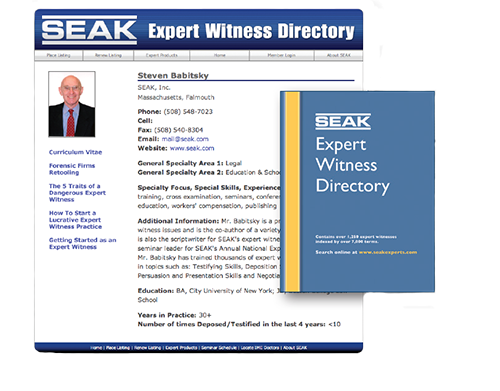 The #1 rated expert witness directory – guaranteed referrals.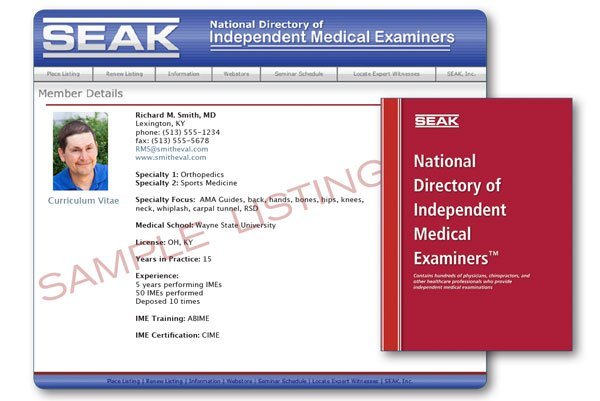 Guaranteed independent medical examination (IME) referrals since 1998.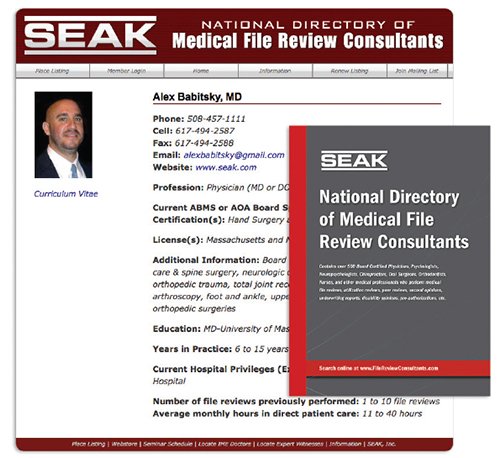 Guaranteed disability and file review referrals since 2010.
SEAK Seminars [Stream On-Demand]
How Physicians Can Earn Extra Money
"Dear Jim, It's been a while since the SEAK writing course in February 2018! You have lived in my heart and my mind since, particularly your mantra: good things happen to doctors who write! I just published my first book! CODE BLUE: The Other End of the Stethoscope. It is a 384 page murder mystery/medical thriller with Russian hackers pilfering information from our EMRs for murder and profit. It is also an exposé set in a corporate-run urgent care aimed at disclosing the alarming direction medicine is going in, now that patients have become mere "consumers of health care." I feel like I have strayed into a completely new profession, and I'm learning so much every day. I am hoping this will open a new world of income as well as being able to make a statement about our greed-driven culture. You were a driving force for me! Thank you and stay awesome!"
"Thanks for the great service, as always. FYI, I have directed at least 4 of my colleagues to the SEAK site in the past few months to get them started on careers outside of clinical practice
"Thank you, I will likely gross 500k this year on SEAK work alone.   I remain amazed.  I will be 69 years old on January 21.  YIKES!"
"My future has been forever altered by that first SEAK course two years ago.  Thanks for making it all possible."
"We paid off our mortgage last Monday.  We did it in 13 years; mostly due to my work with SEAK."
"I have been averaging $100,000 over the past 5 years, with my highest income of $130,000 this year. I just surpassed $800,000 since going to SEAK conferences. I have referred several of my colleagues to your conferences.Thanks so much for teaching me this valuable skill!!"
"I attended your conference a few years ago.  The only conference that has lead me to paths that do make me extra money!  I do file review and I find it to be a great way to generate extra income and I learn ways to help my patients get the best from there insurance and to order the appropriate tests. Thanks So Much!"
"Things are working out well for me and my family as a result of the education that I have gotten from you and your conferences. I see light at the end of the burn out tunnel."
"It is my pleasure to serve as a reference for you. My relationship with SEAK has made me  a much better forensic psychiatrist, and has paid for itself many times over. Thank you again for all that you and James have taught me."
"Jim, I continue to receive your notices and although I have done most of your courses in the past I remain impressed with the level of excellence that you and Steve exhibit in your courses.  From this I continue to supplement my clinical practice.  My consulting practice includes record reviews, IMEs and very rare depositions and almost no court appearances.  All of this at a nice hourly rate that no one seems to fuss about.  Once again keep doing what you are doing which is helpful to the whole system."
"Great job, as SEAK always does"
"It's been a long time since I've learned so much at a meeting!"
"Eye opening, promising options, hopeful solutions for me."
"Your seminars allowed me to completely change my career at 55 years old and to have a financially safe life after getting serious cancer. I can work a few hours a day and make enough to live comfortably."
"The Clearwater seminars (I attended four days) were my first experience of SEAK education.  I plan to learn more.  The seminars exceeded my expectations.  Serious yet fun.  Lots of pearls shared.  Very helpful for novices like me but also for experienced experts in the audience.  Every person I have encountered in your SEAK organization, at the seminar or by phone has been gracious, professional and helpful.  And efficient.  I think you have built a wonderful corporate culture."
"You have given me a foundation to start building a future business"
"I now can seriously consider possible alternatives to current practice"
"Thank you for putting your years of experience into these much-needed physician training courses."
"I wish I had found SEAK 20 years ago."
"After taking your course I followed your advice and am now making over $100,000 extra doing file reviews.  Thank you so much."
"Excellent – exceeded my expectations.  This is my 3rd SEAK conference with Steven Babitsky.  I continue to refer people as they have all been outstanding.  Talk about a great ROI. Worth every penny."
"I wish to thank you for your seminars.  I have made wonderful (and profitable) business relationships with local attorneys after attending two SEAK seminars a few months ago."
"Over the past few years since I started going to SEAK conferences, I have been doing about 12-16 cases a year, 50/50 plaintiff/defense, and earning 100K a year. With declining reimbursements, this has helped me immensely."
"[SEAK] Opened my eyes to entirely new avenue of possibilities."